Getting Started With TurboBridge – What You Need To Know
TurboBridge is designed for self-management. You can sign-up online and fully manage your account and conference calls using our online tools – though please contact us if you need any assistance, and we'll be happy to help. Here are a few basics to keep in mind:
There are no term contracts, and no account set-up or termination fees. You can cancel online anytime.
With our

Value Plan

, you only pay for usage minutes. With the Value plan, there is no cost to get started and no monthly fee – if you don't use the service, there is no charge. The Value Plan is also suitable if you have a one-time need for a conference line.
Your conference line is ready for use immediately after you sign up and activate your line. You could be hosting a conference call within 5 minutes.
To keep your prices low, all charges are billed automatically to your credit card. (Contact us if you wish to prepay by check or apply the charges to your bank account.)
You don't have to reserve conference calls in advance – your conference line is available 24x7.
Establishing Your Account
Before starting the sign-up form, identify the pricing plan that best suits your requirements. The primary selection criteria are frequency of your conference calls, the number of simultaneous conference calls you need to accommodate (or the number of individuals or groups that desire their own conference lines), and whether you need to provide toll-free access to your conference calls. However, you can change your pricing plan at any time, should your actual usage differ from the initial expectation. We understand that you may not be able to determine the best pricing plan in advance – if it turns out that you would have paid less with another plan, contact us and we'll apply an appropriate credit. You may also contact us at any time for an account review, and we'll help you determine the most suitable pricing plan.
Custom Dial-in Numbers

– Custom dial-in numbers are manually provisioned, so you need to contact us so that we can assign an appropriate dial-in number and collect other information from you to customize your service. If you create an account through the online sign-up process and activate your conference line, please note that the dial-in numbers initially assigned to your account will not be your actual custom dial-in numbers.
Online sign-up is a two-step process:
Create Your Account

– You need to specify your personal login information (name, email address, password) and input your credit card info.

Activate Your Conference Line

– Complete an online form to specify your passcodes and conference features.
There are two elements to an account, an Administrator Profile and a Service Account. The Administrator is your personal profile, defined by your email address and corresponding login password. (We also store your name, contact phone number and time zone in your Administrator Profile.) The Service Account contains the conference lines which will be billed to the specified credit card. If you are establishing an account for your organization (as opposed to for your personal use), you should specify a Company/Account Name on the online sign-up form.
The same Administrator may have access to multiple Service Accounts, and each Service Account may have multiple Administrators. See the Account Portal description for information on creating additional Administrators for your account.
The sign-up form is shown below. To access the sign-up form, click on the corresponding Sign Up button associated with your preferred pricing option displayed on the Pricing page. The Administrator Information section is associated with the Administrator Profile, while the Company/Account Name and Payment Info sections are associated with the Service Account. If you were previously registered as an administrator on a different TurboBridge account with the same email address, you do not need to enter personal information – just click on the indicated link, where you will be prompted to login with your email address and password already on file.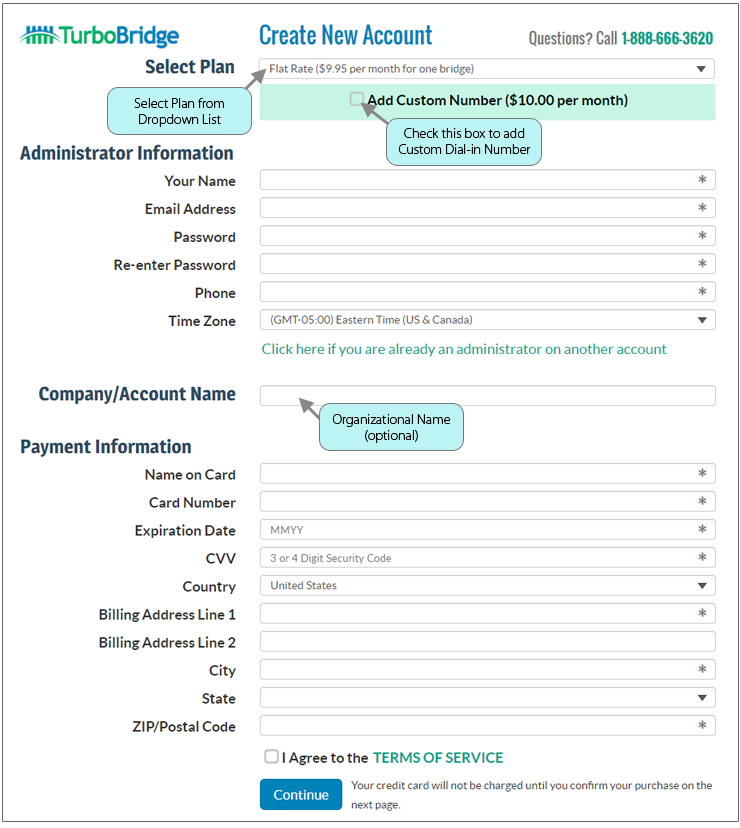 Once you confirm your submission to create the Service Account, the confirmation page will display an input form to activate your conference line. For assistance in completing that form, see Setting Up a Conference Bridge.
Billing and Payment
Monthly service fees are paid in advance, while per-minute usage charges are billed in arrears. There is no refund for monthly service fees, unless covered by the Money Back Guarantee. Usage charges are accrued during a monthly billing cycle, and the invoice is processed on the same date every month, which is determined by your sign-up date. (If you wish to be invoiced on a different day of the month, please let us know.) Your credit card is billed automatically, and an email invoice receipt is sent to the primary billing contact (a designated Administrator for the account).
If we are unable to process the monthly charges to your credit card, your Service Account is subject to suspension. (A grace period may apply, so you can continue to use the service pending the resolution of the credit card issue.)